Elliott Hall
Creative Technologist, Writer, and Software Engineer
Recent Work
---
Room is Sad is an immersive experience that uses AI, the Internet of Things (IoT), and Unreal Engine 5 to tell the story of a smart room that isn't feeling quite itself. It appeared at the 2023 London Design Biennale as part of King's College London's 'Seeking Connection' pavilion, where it talked to over a thousand people about its anxieties, dreams, and its feud with the desk (it knows what it did.) Room will be remounted a the Bush Arcade from November 2023 to January 2024.
A full description of the experience and how I made it (including generative AI Guest stars) is on the KDL blog
A new immersive experience in Unreal Engine, made in partnership with Kit Theatre to enable play between in-person and remote participants. Currently in the prototype stage, we are developing Bridge AR with a focus on accessibility for young audiences, drawing on KIT Theatre's earlier production A Robot Awakes with the Unicorn Theatre and Great Ormond Street Hospital (GOSH) as well as my earlier co-production with KIT, The Digital Ghost Hunt.
Books
---
'The First Stone is a knockout' – The Guardian

'Ingenious and witty' – The Daily Telegraph

'Outstanding' – The Independent
The Digital Ghost Hunt
---
A ground-breaking immersive Augmented Reality storytelling experience
About Me
---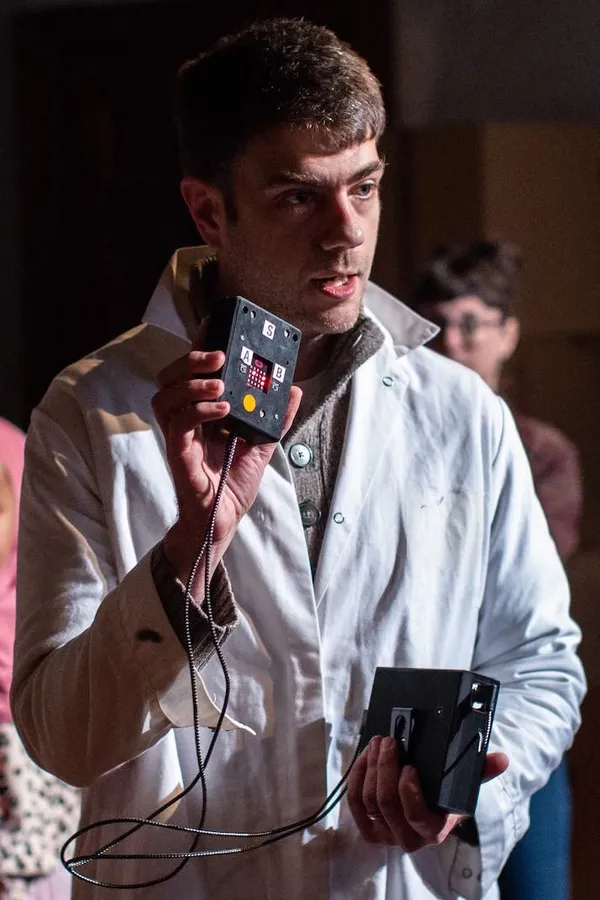 I use words and technology to create worlds and tell stories. That means I wear a lot of hats: Creative Technologist, Writer, and Software Engineer.
In my Creative Technologist practice I make immersive family shows using a combination of AR, embedded systems and live performance. I play with Unreal, Unity, Raspberry Pis, Micro:Bits, Arduinos and anything else I can get my hands on. I use Java, Java/Typescript, and C++/C#.
I'm also a novelist, author of The Strange Trilogy, published by John Murray in the UK and Silvertail Books in the US.
As a Research Software Engineer(RSE) I'm a nose-to-tail developer from SQL db design at one end to JQuery UI at the other, with Java/Python(Django), Docker, and JAM in between. I collaborate with academic partners to build unusual, innovative websites as part of Humanities research.
Academic work
---
Selected publications
Elliott Hall. 'The Digital Ghost Hunt: A New Approach to Coding Education Through Immersive Theatre.' DH Mexico City, 2018.
James Smithies, Elliott Hall. 'Misremembering Machines: A Creative Collaboration on Memory in AI-driven Storytelling.' DH Utrecht, 2019.
Westling, C., Hall, E. and Krell, M., 2020. Reimagining heritage buildings as technological spaces. In: Griffin, H., ed. AMPS Proceedings Series 20.2. University of Kent, 282-288.
James Smithies, Sarah Atkinson, Elliott Hall. 'Applied Digital Humanities and the Creative Industries in the United Kingdom'. Digital Humanities Quarterly, Issue 16.2, 2022.
Selected Invited Talks
Tom Bowtell, Elliott Hall. 'The Digital Ghost Hunt: AR and immersive theatre.' Continue Annual Conference @ York Mediale, October 3, 2018.
Elliott Hall. 'The Digital Ghost Hunt.' UKRI US Immersive Mission to South by Southwest (SXSW), 2019.